Minnesota In-Ground Pool Construction – Minneapolis St. Paul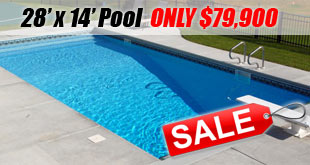 Complete in-ground pool installation
3′ deck and corner entrance steps
Pump, light, heater and filter included
FREE automatic cleaner included
FREE Loop Loc winter cover
FREE first year opening & closing
When you want a quality swimming pool for your home in the Twin Cities, the best choice you can make is an in-ground swimming pool designed, built and maintained by a premier builder like our Minnesota swimming pool company. Because of our harsh winter weather, only a pool designed to withstand the extreme temperatures has the quality and endurance that you need for a lifetime of use and enjoyment. Designed and installed by our top-rated swimming pool construction company in Minnesota, your new in-ground pool is a great way to enhance your residential home and enrich your life. In the long run, a beautiful pool is an investment that will pay off for a lifetime, and beyond.
Building a swimming pool is a big investment. Most home owners have little experience in choosing a reputable pool builder, comparing prices, selecting the construction materials or evaluating an installation site. How much does an in-ground pool cost? How long does it take to build it? How do I choose various pool products? In order to make the right decisions, you need information. For over 30 years, our swimming company has been helping homeowners making informed decisions that are right for them, regardless which contractor they choose to build their pool. We are humbled and honored to have earned the trust of thousands of satisfied customers across Minnesota and we will be happy to talk with you about your plan.
In-Ground Swimming Pools Designed for Beauty, Durability & Affordability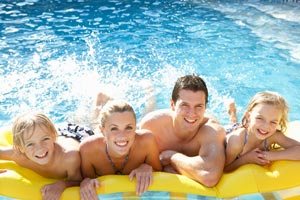 Although every pool that we have designed and installed is unique and different, they all share one thing in common: high quality. The process of planning, designing and constructing a pool is a very complicated process. Cutting corners on materials, parts and construction can only lead to problems and costly repairs. A low-priced bid may seem attractive, but it can cost a lot more than the initial low price. Our full commitment to top-quality design, materials and construction has made us one of the primer swimming pool companies. Only a beautiful and durable pool gives you the enjoyment and the pride of ownership for a very long time. The unmatched quality of our in-ground pools is reflected in:
Beauty – We design in-ground swimming pools to allow the use of the wide variety of finishes, customized designs, accessories, and more that give their owners the beauty and individuality they demand and deserve. There are many choices on size, shape, surrounding features, or materials. Your pride of ownership in your home will also be reflected in your choice of a beautiful swimming pool that matches the quality of your home.
Durability – All our in-ground pools are designed and built to last. Having built thousands of pools in Minnesota, we know how to get the job done right so your pool can withstand the extreme temperatures. We have selected the most durable pool materials to assure you of decades of continuing beauty and recreation. Your pool and everything around it will last a long time for your enjoyment.
Design Flexibility – Your pool can take many shapes, including L-Shape, Rectangular, Kidney, Oval and many more. The pool surroundings can reflect your unique concepts and vision. From an automatic pool cover, to LED lighting, we can design and install the pool meet your needs.
Value – A quality in-ground pool is a big project for any home. For homeowners, though, the pool's long life and the increased value of your home means that the cost is spread over decades and is often recouped when the home is sold.
Minnesota Premier In-Ground Pool Company – Minneapolis St. Paul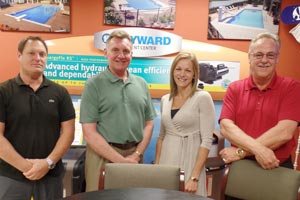 At Atlantis Pool & Spa, we know how to design and build a pool that meets your needs and last a long time. From the initial design and planning to full attention paid to every detail of a pool's construction, we're 100% dedicated to making every pool we build a top-quality pool. Our pool design and construction company has the knowledge and expertise needed to create your custom concrete pool the right way – the only way we know.
We have over 30 years of experience building pools in the Minneapolis St. Paul area, and understand the special issues that are unique to Minnesota in-ground swimming pool construction. You can count on us to take your pool from initial concept to its final form efficiently and with utmost care taken with every detail. We don't stop when your swimming pool is finished, either. Our service department is always ready to solve any problem for the lifetime of your pool. Unlike many other pool companies, we've been here for decades, and will be here when you need us.
We also know that you need information when you're considering adding a swimming pool to your residential property. You may have many questions regarding the cost, the installation site, the landscape, the maintenance. Our experts stand ready to help you address your questions. We hope you'll visit the many informative pages on this website, where you can learn how a pool is designed and built. You'll also learn about exciting features you can include in your own pool project and why our pool contractor is your best choice to help you create the pool you want and deserve. When you're ready to discuss your pool plans, contact us. One of our expert pool consultants will be happy to visit you on your site, discuss your ideas and show you to make your ideas come to life.