Swimming Pool Services – Minneapolis St. Paul, MN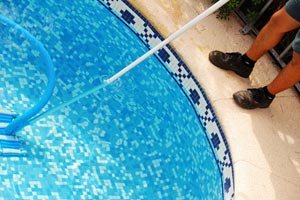 Every swimming pool requires services from time to time. Like any system in your home or business, regular attention to needed service is important to keeping your swimming pool functioning properly and safely. While some minor services and regular water testing and adjustments are normally done by the pool owner or a Certified Pool Operator, other maintenance and repairs should be done by a professional pool service company. Atlantis Pool & Spa offers complete pool services for all types of swimming pools, whether we built them or not. You can rely on our Minnesota pool company to perform all maintenance needed to keep your pool in top condition at all times. Our services include:
Pool Repairs & Renovation – From liner installation to repair and maintenance of pumps, filters, heaters, water treatment systems, and other accessories, our pool service contractor is your one-stop source for pool maintenance.
Complete Pool Remodeling – When it's time to turn an old, dingy, leaky, balky swimming pool into a modern aquatic recreational resource, our builder can handle the entire job.
Pool Cleaning – Rely on the expert service technicians at our full-service Twin Cities pool company to keep your pool in pristine condition. While we're there to clean your pool, we'll also check for any problems that may have developed.
Pool Inspections – A periodic inspection, usually once a year, by a fully-qualified, experienced technician from our trusted Minneapolis area pool company is your best assurance that your pool is in perfect order. These inspections can also spot developing problems you may not have noticed before they become serious. Combine this pool service with an opening or closing of your pool, or when you have the pool cleaned.
Water Testing – Any time you have questions about the water quality in your pool, call us. A technician will test your water, using state-of-the-art equipment, and will help you adjust treatment protocols to maintain ideal water quality.
Pool Evaluations – If you're buying a home or commercial property that has an existing in-ground pool, call our Minnesota pool contractor to evaluate the condition of the pool before making a decision. We can advise you about any costly repairs or updates that are needed. This knowledge can save you thousands.
Pool Opening & Closing – Each spring and fall, your pool requires certain procedures to get it ready for use or before shutting it down for the winter. Atlantis Pool technicians will do all the necessary work to ensure proper operation of your pool.
Mechanical Systems Maintenance – Every system in your pool, from pumps and filters to water treatment and heaters needs regular maintenance to ensure long, reliable life. Atlantis Pool technicians have the training and expertise to perform this maintenance properly and on schedule.
Plumbing Repairs – If you have a problem with any plumbing associated with your swimming pool or spa, call us right away. Our technicians will make fast repairs to avoid damage to your pool or other systems.
Accessory Repair – Pool covers, water features, lighting, pool cleaners and skimmers, and more may need repairs at some time. If it has anything to do with your swimming pool or spa, Atlantis Pool & Spa technicians are on call to handle any repair of these systems.
Affordable Quality Swimming Pool Services – Minneapolis St. Paul, MN
Any time you need a service or repair that involves your pool, spa or associated systems, Atlantis Pool & Spa should be your first call. Our 30+ years of experience with residential and commercial pools means that we can handle any service or repair needs for any pool or spa. Our technicians will respond quickly and are equipped to handle most repairs on the spot. In case of equipment failure, we can supply and install the exact equipment needed for your requirements. You can rely on our professionalism and training to take care of any problem quickly and economically.