Minnesota Full-Service Swimming Pool Contractor – Minneapolis St. Paul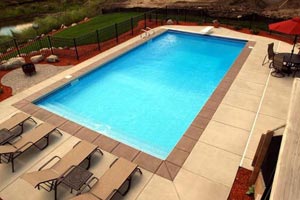 Every time we meet with a new customer at our top-quality swimming pool company in the Twin Cities, we know that we'll be answering many questions. That's only natural, since a swimming pool is a once-in-a-lifetime purchase. We're always happy to answer any questions our customers ask, because educating people about high quality swimming pools is an important part of our commitment to complete customer service. Here are some of the most common questions we hear about concrete gunite swimming pools, along with simple answers
What about pool maintenance? Will a pool be a constant headache? – Not at all. While it's true that swimming pools require maintenance, most of it is quite simple, and you can do it yourself. Testing water quality is easy, and today's water purification systems are automatic and easy to operate. Built in skimmers and filters keep your water sparkling clear, and pool covers keep larger debris out of the pool. Other maintenance chores, like pool openings and closings and cleaning are jobs for professionals. Atlantis Pool & Spa will be happy to handle those chores, along with any equipment maintenance and repair. We can set up a regular schedule for you, or you can call us any time. We establish solid relationships with all our customers.
Our architect drew some sketches of an in-ground pool for us. Can you work from those? – We'd love to. We work with architects and designers on many pools. Those sketches can become the basis of your pool. Concrete pools need to have a final design created by a professional aquatic engineer. We work with the best in the business. They can turn your sketch into complete construction drawings, and we can build the pool for you.
There are so many pool choices to make. Can you help me narrow them down? – That's the job of our pool consultants. Every element of your in-ground pool involves choices, and our consultants can explain the factors that go into making them. We'll point out the benefits and drawbacks of each option and help you make the best decisions. For products like pumps, heaters, and other mechanical systems, we can make recommendations of proven products that will meet your needs. When you work with our consultants, the process can be fun and exciting.
Our children love water parks. Can we incorporate some of those features? – Absolutely. Let us show you the wide variety of water slides, fountains, and other features that can turn your residential pool into a water park environment. Spraygrounds and splash pads are also very popular water park features for younger children, and make a great addition to your aquatic recreation installation. Your children will be the envy of all their friends and you'll enjoy their happy voices as they enjoy their water park at home.
We're in the market for a home with an in-ground pool. How do we know if the pool is OK? – Just call Atlantis Pool & Spa. We'll inspect and evaluate the pool at any home you're considering and give you a report. We'll identify any issues that exist and suggest any repairs that are needed. We can help you understand how much any work the pool needs will cost, so you can negotiate with the current owner. If needed, we can even completely renovate a pool, if that's what's required. You need to know the facts before you buy.
Can we add a pool inside our existing building, despite limited space? – We can build a pool indoors in whatever space is available. Let us come and see your space and we can suggest a great solution for you. We can build anything from a lap-swimming pool in a narrow location to a pleasant swimming pool in a surprisingly small area. Every project is different, and we take pride in our creative solutions.
Best In-Ground Pool Installer in Minneapolis St. Paul, MN
Anytime you have questions about in-ground swimming pools, spas, and other aquatic installations, just call Atlantis Pool & Spa or drop by our convenient Minneapolis showroom. One of our swimming pool experts will be happy to help provide the answers you need. We also carry a complete line of pool products in our showroom. We're your one-stop shop for everything having to do with pools and spas, and we'd love to meet you.