In-Ground Swimming Pool Cost Estimate – Minneapolis St. Paul, MN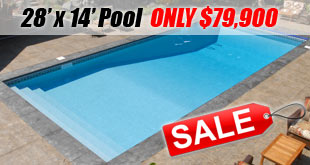 Complete pool with 3′ concrete deck
Pool pump, light, heater and filter
FREE automatic pool cleaner
FREE winter pool cover
Are you considering a new in-ground swimming pool for your home in Minnesota? Our swimming pool experts will be happy to provide a FREE onsite consultation and cost estimate. Since each swimming pool is different, we will go through all the options to make sure you get the pool that meets your needs and expectations. We are available for onsite appointments whenever it is convenient for you, including evenings and weekends.
If you live close to the Minneapolis St. Paul, we encourage you to visit our Twin Cities' showroom before an onsite visit. At our showroom, we can show you large-scale photos of various concrete pool designs, plus samples of construction materials. Our showroom showcases the beautiful swimming pools that we have designed and built. A visit is a great place to start in choosing a pool for your home or commercial property.
Request an Onsite Swimming Pool Cost Estimate for Your New Pool
Please fill out the form and our pool experts will get back to you within 24 hours.
After an initial phone consultation, our pool experts will arrange an onsite visit to your property at a time convenient for you. We will evaluate your installation site, listen to your needs, provide you with options and help you understand the pool building process and how the final cost is determined by various choices you make. After the onsite consultation, we will provide you an accurate cost estimate of your new in-ground pool with no hidden cost. We will stand ready to answer all of your questions and help you make the decisions that meed your needs and budget.