Backyard Swimming Pool Design & Construction in Minnesota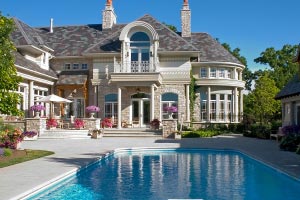 In the Minneapolis St. Paul metro area, as in most places, our homes are the center of our lives. There, we escape from the stresses of our busy work lives, raise our families, and enjoy the fruits of our labors. And, like everywhere else, Minnesotans are always looking for ways to enhance their homes and their lifestyles. Even though we live in an area that has harsh winters, a backyard swimming pool is one of the most popular ways we add new possibilities to our precious hours at home. Our spring, summer, and fall weather encourages us to get outdoors and enjoy our beautiful environment, and a swimming pool is an open invitation to do just that. There are many reasons we Minneapolis St. Paul homeowners love our pools.
Recreation and Exercise – Swimming is one of the forms of exercise most recommended by health professionals. It strengthens muscles and cardiovascular function without harmful impact. It's also just plain fun for people of all ages.
Entertaining – Backyard swimming pools and their surrounding areas are a natural location for entertaining our families and guests. From happy children's pool parties to evenings spent with our good friends, a gathering around the swimming pool is naturally an occasion for great times together.
Family Values – Just as our adult lives are busy, children have many things pulling them away from home, especially teenagers. A backyard outdoor pool is a powerful attraction that helps keep kids at home and the family together, reinforcing powerful positive influences.
Creative Use of Space – A beautiful in-ground pool and the area around it is a great enhancement to the beauty of any home. It attracts family members to come outdoors and enjoy the entire property far better than any other outdoor feature, expanding possibilities in a limited space.
Home Value – For many families, changes mean moving from one home to another. When that happens, the monetary value of your home and its salability becomes important. A well-designed and built backyard in-ground swimming pool is an attractive feature that makes your home more valuable and more attractive to buyers.
For many Twin Cities home owners, a beautiful backyard swimming pool is a prized addition. With quality to match the appointments and architectural details of each unique home, a customized swimming pool design adds significant value to any residential property. The cost of a top-quality pool makes sense from an investment perspective, too. At our pool company, we have built thousands of high-quality outdoor backyard swimming pools homeowners throughout the Minneapolis St. Paul area. For a wide range of properties, swimming pools we have constructed in our three decades of business gracefully complement many homes in the Twin Cities.
We Build Beautiful Durable Swimming Pools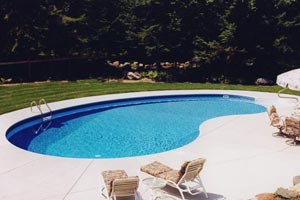 When homeowners decide to add a swimming pool and spa to their homes, choosing a highly reputable Minnesota pool builder is a great choice. In quality, beauty, and many other factors, an in-ground pool is a great match for many home.
For many luxury homes, a custom design, top-of-the-line construction, durability that can't be matched, and other advantages of inground pools and spas help keep your swimming pool in line with the quality and beauty of the rest of your home and property. Wherever unmatched quality and beauty matters, a uniquely designed, well constructed swimming pool is what every one wants and deserves. In the past 3 decades, we have designed and built many custom backyard pools for high-end homes.
Homes in Upscale Residential Communities – Wherever luxury homes make up a community, quality of every aspect of a home is important. Maintaining the quality of life in exclusive communities demands excellence. Your pride of ownership demands the very best, and only a top-quality swimming pool will do.
Lakefront Homes – If you own a lake-front home, you already love life near the water. Sadly, the water quality of some lakes isn't conducive to swimming and other aquatic activities on a regular basis. A backyard swimming pool is an ideal way to bring aquatic recreation to your back door, while enjoying boating and other activities on the lake itself.
High-End Homes – If you own a multi-million dollar home, a swimming pool should be an essential part of your lifestyle. A luxurious outdoor swimming pool, with beautiful water features and an exciting visual design can be an important part of your recreation and entertainment activities. The sky's the limit for homes like yours, and only a perfect pool will do. You want the best in design, materials, and construction.
Minnesota Premier Outdoor Swimming Pool Builder
When it comes to creating the very best in-ground pools, experience counts. As the most trusted Minnesota pool company, we have over 30 years of experience building some of the finest in-ground pools in the greater Minneapolis St. Paul area. We completely understand the standards you set for all aspects of your lifestyle, and are dedicated to building the highest quality aquatic residential recreational facilities available anywhere. Our proven dedication to quality is your assurance that your pool will truly enhance your property. Contact us to arrange a meeting at your home with one of our pool consultants to discuss your pool ideas. We'll show you how we can design a swimming pool, spa, and surrounding environment that exceeds your expectations. We'll work hand in hand with your architect or designer to create the pool of your dreams.