Minnesota In-Ground Pool Builder – Minneapolis St. Paul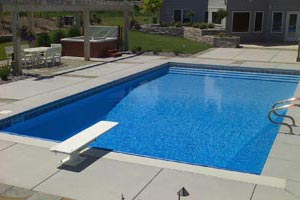 An in-ground swimming pool is a major construction project. Choosing the company to build your pool is the most important decision you make when you decide to add a swimming pool and spa at your Twin Cities home. Swimming pool builders in Minnesota come and go, but the best builders in any area have been in the swimming pool business for decades. Longevity in the construction business is one of your best guides to choosing a truly professional swimming pool builder. Atlantis Pool & Spa takes great pride in our 30+ years of Minneapolis St. Paul area pool construction and service. If you're in the market for an new backyard in-ground swimming pool, spa, or indoor pool, you owe it to yourself to contact Atlantis Pool & Spa. Our satisfied customers tell the tale.
Pool Design & Building Creativity – Every pool building project presents its own set of unique demands. Creating swimming pools often requires creative solutions. Our long experience means that we've encountered every difficult situation and know the best ways to solve these issues. We also pride ourselves in helping our customers discover exciting options in pool designs.
Utmost Professionalism – Every member of our pool construction team takes pool building as a deep responsibility. We know that only the most professional handling of every phase of a project produces the best possible results. From our consultants to every worker involved in pool construction, we always maintain the highest standards.
Prompt Communication – On a major project like an in-ground swimming pool, keeping customers fully informed is a crucial aspect of customer satisfaction. We pride ourselves on our communication process, and are always available to answer customer's questions at any time.
Attention to Detail – Pool design and construction is a complex process. Making certain that every detail of that process is executed correctly is an important reason that our pool builder has earned its top reputation.
Customer Satisfaction – Our goal with every project is to satisfy every customer completely with each project. Our job is not done until a project meets every expectation. That's why so many of our former customers recommend our Twin Cities in-ground pool company to their friends and neighbors.
While the total cost for your new swimming pool is always a factor, it's not the only thing to consider when moving through the process of building in-ground swimming pool. Your choice of a contractor to help you create your dream is even more important. The longevity, beauty and overall quality of your new swimming pool depend largely on that choice. You should expect complete professionalism and attention to quality at all times, and our experienced Minneapolis St. Paul swimming pool company delivers exactly that to every customer. Your complete satisfaction is our highest priority.
Minnesota Top-Rated In-Ground Swimming Pool Builder
Every swimming pool project is the most important project for every customer. We never forget that at Atlantis Pool & Spa. We build every in-ground pool to meet our exacting standards, without compromise. That's why our hundreds of customers over the years are unanimous in their praise for us as the leading pool company in Minneapolis St. Paul. Our dedication to excellence never varies and we treat each pool as though we were building it for our own families. Contact us today to discuss your pool project. We'd love to help you create the pool environment you've been dreaming about.