In-Ground Swimming Pool Design – Minneapolis St. Paul, MN
Planning, designing and building an in-ground pool is a complex process. The very first step in that process is designing the pool and its surrounding area. A step-by-step process can streamline that aspect of creating the project, but it involves a multitude of decisions, each of which plays a role in the overall success of the project. You'll have an estimate of costs as the design proceeds, but decisions made during the pool design period will affect the cost of the swimming pool, so an accurate total cost cannot be determined until late in the pool design process. Once a firm figure is reached, the owner and your Minnesota pool construction company will create and execute a contract for the project. Here's a run-down of all the factors that go into the design process for every new in-ground concrete swimming pool:
Site Analysis – At this early stage of a swimming pool, the overall size and shape of the in-ground pool and its surrounding area is determined. Other factors, such as the grade of the property, soil type, water table depth, and more are determined, since each will influence the design. Careful attention to size, proportion, and other factors all play a role.
Overall Pool Design – At this stage, homeowners may consult with an architect or designer to create an image of what the pool will look like when built. Our Minnesota pool company can also work directly with a homeowner on this stage, and can generate an image of the pool, which can be altered at any point until it is finalized. Either way, there are many factors to consider:

Pool Size – Your in-ground pool should be proportional to the space it occupies, and must allow for decking, housing for mechanical components like pumps, heater, filters, etc. Outbuildings such as pool houses and changing rooms, along with additional facilities such as barbecue and dining areas must also be considered.
Shape and Elevation – Will the in-ground swimming pool be a standard recreational shape or an exotic shape? Will it incorporate above ground elements, such as diving boards, water slides, or be multi-level in pool design, with a raised spa or other features?
Pool Usage – How will the pool be used? Will it incorporate a diving board, water slides, and other features? Is a spa part of the design? Should the in-ground pool have a separate wading area for children? Is lap swimming the primary purpose? All of these factors affect the design.
Pool Entry – Will the pool use traditional steps and ladders for entry and exit, or will it be a zero entrance or beach entry pool, with a gradual sloping entrance? Does it need to incorporate handicapped access features? Much depends on who will be using the pool and how they will be using it.
Special Features – Will the pool have customized lighting that can be controlled to create light shows? The number of special features that can be added to a pool has grown dramatically in recent years.
Aesthetics – The liner materials available for vinyl in-ground swimming pools are almost endless today, and include a large selection of colors and textures. You will also make decisions on decking and landscaping. Our Twin Cities pool builder can show you many ways you can make your pool unique and beautiful. We'll help you make the right decisions.
Mechanical Components – Late in the initial design process, choices of mechanical components like pumps, filters, heater, skimmers, pool lighting, water purification equipment, automatic pool covers, and more must be made. Our pool company only recommends top quality equipment and will make recommendations based on the size and design of your pool. You can rely on us to supply the best equipment available.
Pool Accessories – Diving boards, water slides, and other accessories for your pool are also important decisions. We can supply a wide variety of pool accessories from many manufacturers and will be happy to show them to you and make recommendations.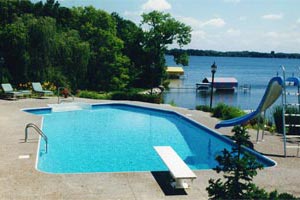 Once all aspects of the pool design are finalized actual construction can begin. The design process can take some time, and changes in the design once it is complete can slow down the construction of your pool and create additional costs, so it's important to take all the time you need to come up with a final design that is exactly what you want.
As a prospective swimming pool owner, you may be surprised at how many details go into the design of your new pool. Each detail involves decisions on your part, which should be based on accurate information. As Minnesota's leader in in-ground pool construction, we believe that our customers deserve accurate, pressure-free information. That's why we present you with all of your options at every stage of the design process and explain the pros and cons of each option, along with information on how they affect how much your new pool costs. You make the decisions, based on your needs and wishes.
Minnesota Swimming Pool Design Service
As a leading pool builder in the Twin Cities, we know the design process of an in-ground pool is complex and sometimes confusing. Our pool consultants will help you at every stage of the process, showing you your options and making recommendations based on our 30+ years of pool building and pool design experience. We want you to have exactly the pool you imagine, so we never rush you into making decisions you'll later regret. We establish a relationship with our pool customers that's based on mutual trust, so you can count on us for expert, practical advice at every stage of the design of your pool or aquatic recreation center. Contact us today to get the process started. We'd love to help you create exactly the pool you want for your Minneapolis and St. Paul home or commercial property.