Swimming Pool Pumps, Heaters, Filters, Cleaners for Minnesota Pools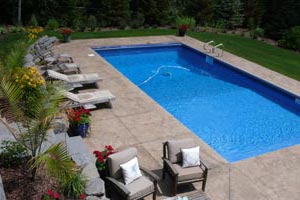 When our Twin Cities pool company builds indoor and outdoor swimming pools, quality construction is always our top priority. The equipment and accessories for your in-ground pool should match that dedication to quality and performance. After 30+ years of research and experience, we have worked with a wide range for products from various manufacturers. We recommend and carry a full line of Hayward pool products for the pools we build and for replacement purposes. From pumps, filters, chlorination systems, cleaning equipment and more, Hayward in-ground pool products are the top-quality products we offer our discerning customers.
Hayward Pumps for In-Ground Pools – The pump for your pool is the heart of most of the systems in your pool. Hayward in-ground pool pumps offer the dependability and performance that give you the value you expect and deserve. Whatever the size of your pool and the pools systems it uses, there's a Hayward pump that is a perfect match. Their high-powered motors are cool and quiet running, and their high efficiency helps keep your energy bills under control. Let our pool company recommend the pump that matches your new or existing pool.
Hayward In-Ground Pool Filters – Keeping your pool's water clear and clean is a tough job, but Hayward in-ground pool filters offer the performance and low maintenance features you need, built in by design. From cartridge and diatomaceous Earth filters to traditional sand filters, there's a Hayward filter that will match your pool's size and design perfectly. We carry filters of all sizes and types at our store at discount prices.
Hayward In-Ground Pool Heaters – For Minnesota pool owners, having a dependable, reliable, high-efficiency pool heater is a must for extending the pool season as long as possible. Hayward in-ground pool heaters are the industry standard and offer the high efficiency and reliable performance you need. For your new pool, or as a replacement, ask our consultants to recommend the Hayward pool heater that is the best match for your pool.
Hayward In-Ground Pool Cleaners – Keeping your pool spotlessly clean enhances your family's enjoyment and helps protect them. Hayward in-ground pool cleaners are available in a wide variety of designs to help keep your pool clean and sanitary. All are state-of-the-art and are easy to use, highly efficient, and offer top performance. Your consultant at our pool company will be happy to help you select pool-cleaning equipment from Hayward to match your unique needs.
Hayward In-Ground Pool Sanitization – Keeping the water in your pool safe and free from harmful bacteria used to mean constant testing and adding chemicals. Today, Hayward In-Ground Pool Sanitization systems let you relax and enjoy your pool without all the hassle. Automatic chlorination, using Hayward's electronic salt chlorination systems, keep your pool sanitized and safe using nothing more than ordinary salt. From Hayward's Aqua Rite Pro electronic chlorine generators to their state-of-the-art control systems, there's a system that matches your pool.
How much do top-quality Hayward pool products cost? When our swimming pool experts hear that question, we ask another question: How much does poor quality or unreliable pool equipment cost? After more than three decades of building and maintaining swimming pools in the Minneapolis St. Paul area, we know from experience that cutting costs on the mechanical systems of any swimming pool leads to high costs for replacements sooner than you expect. Hayward pool system products are competitive in price with other manufacturer's products, but are superior in quality. Making the choice of high quality is always your best bargain.
Complete Twin Cities Swimming Pool Company
At our swimming pool company, we know that every aspect of your pool must meet the highest standards of quality, performance, and efficiency. When it comes to products for your pool, we recommend and carry the complete line of Hayward in-ground pool products. Our 30 years of experience has shown us that they provide the top quality performance and durability that match the quality and performance of the pools we build. Whether you're thinking about building a new concrete pool or need to replace pool equipment for an existing pool, contact Atlantis Pool & Spa. Our experienced consultants will be happy to help you select products that will meet your exact needs.