Building Outdoor In-Ground Swimming Pools – Minneapolis St. Paul, MN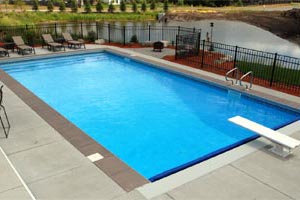 As the owner of a Twin Cities home, you're justifiably proud of your home. You pay close attention to every aspect of it, and are proud to share it with your family, guests, and business associates. Your lifestyle, too, reflects your individual taste and preferences. When you're considering adding an outdoor swimming pool or other aquatic features to your home, you face many decisions when choosing its design. Your in-ground pool should reflect the same qualities you love in your home. It should also be an enhancement to your lifestyle. Here are some of the things to consider when making design decisions:
Home Architecture – Your new outdoor pool should reflect the architecture of your home, since it will become a long-lasting part of the property. If your home is conservative in design, your swimming pool should reflect that style. Similarly, if your home is more flamboyant or exciting in design, your in-ground pool and everything surrounding it should have the same characteristics. Whether you have an architect or designer create the overall look of your pool or you work with an experienced pool designer at our pool company, your pool should reflect the style of your home.
Pool Size – Your new outdoor swimming pool and its surrounding area should be proportional to the space available. A too small pool will lack impact, while a pool that is oversized for its location will overwhelm the area and limit other uses of your property.
Pool Materials – Your home incorporates high-quality materials throughout, and has appointments that reflect its overall quality. When choosing materials for your outdoor pool and other structures, make sure that their quality matches the quality reflected in your home. If you scrimp on materials, you may be disappointed in the results later.
Your Landscape – Your carefully planned landscaping is an integral part of your home. So is the view from your home. Take these features into consideration when creating a design for your aquatic recreation addition. If you have a dramatic view to the Minneapolis St. Paul area from your pool location, consider a swimming pool design that makes that view an important part of your pool experience. There are many design features, such as Infinity Edge pools that can add drama to your pool.
Pool Entertainment – How you entertain your family, friends and guests is an important lifestyle factor. If you frequently entertain large gatherings, be sure your pool design can accommodate those gatherings, for it will be a focal point for your entertaining. If your gatherings are small and intimate, incorporate a cozy spa feature into your in-ground pool environment.
Family – If children are a major part of your lifestyle, always keep them in mind when creating a pool design. Special features water slides will add to their enjoyment. And don't forget that your pool will last a very long time, so keep in mind that youngsters will also be entertaining at your poolside as they grow older. Your grandchildren will also gather around the pool eventually. If large extended family gatherings are part of your life, keep the older members of the family in mind and add accessibility features to your in-ground pool. You may appreciate them yourself as time passes, too.
Exercise & Health – If fitness and health are important to you, be sure that your pool design accommodates vigorous swimming. Some pool designs are inconvenient for lap swimming and other water exercise, but you don't have to create a dedicated lap pool to get those benefits. You can create a pool design that accommodates all uses.
Neighbors – Keep your neighbors' viewscapes in mind, too, when working on the design of your outdoor pool and surrounding facilities. How the pool area appears from their vantage point is an important factor. Privacy issues need careful thought, and pools can be noisy places when you entertain. If neighbors are nearby, special attention may be needed to safety issues and pool access.
Pool Cost – When considering the cost of your new swimming pool, calculate that cost, year by year, over the lifetime of the pool. Vinyl in-ground swimming pools last for a very long time. Measured over time, the true cost of a high-quality swimming pool from our trusted pool building company makes great economic sense as a high-value investment for your home.
Having designed and built thousands of outdoor swimming pools in Minnesota, we understand all the wide range of options when it comes to designing and building a pool. Every option and choice has a direct impact on the cost of the pool. To accurately estimate how much your pool will cost, it is best to have an on-site evaluation of your backyard and a discussion of your ideas for your new pool. All of our cost estimates are accurate with no hidden costs. We never use high-pressure sales tactics. We will provide you all the information you need to make an informed decision on your own.
Outdoor Swimming Pool Design & Construction Company – Minneapolis St. Paul, MN
The experienced pool design and construction consultants at our Minnesota pool company understand every aspect of pool design, and can help you make the best choices in all your decisions. Working with you or your architect or designer, we can show you an enormous range of possibilities. Our carefully selected suppliers in all areas of swimming pool products offer the variety and quality needed to help us create the perfect outdoor pool to match your home and lifestyle. We never rush the design process and always have creative solutions for every need. We understand that your pool is an important part of your home, and want to help make your pool and other aquatic facilities a perfect match for you, your home, and your lifestyle. Contact us soon to discuss your pool ideas. We love swimming pools and everything surrounding them, and we'd love to share that excitement with you as you design your dream aquatic recreation environment.