Building Custom In-Ground Swimming Pools – Minneapolis St. Paul, MN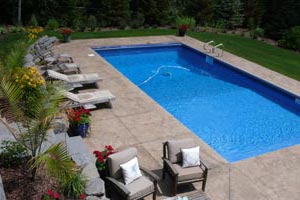 Adding an in-ground swimming pool to your home in Minneapolis St. Paul is a great way to expand your enjoyment of a beautiful residence. Just thinking about all the possibilities for you new pool addition, though, can be a bit overwhelming, but the end result is more than worth the decision-making. Your in-ground swimming pool and its surrounding area can be, and should be, as unique as your home and lifestyle. Fortunately, today's swimming pool technology offers almost many ways to build a swimming pool for your recreation that is custom-designed and unique. Getting from the basic desire for an in-ground swimming pool to the realization of your dream is an exciting process. As a leading in-ground pool builder, we will work with you every step of the way to build your dream pool.
Initiating the Dream – The desire for an in-ground swimming pool is a natural one. Busy lives and stress often make traveling to resorts or even a summer home difficult to arrange. A pool is a natural way to bring many of the joys of travel and a second home to your own backyard. Best of all, your swimming pool is ready for use at a moment's notice, allowing you to enjoy vacation activities at any time. It's no wonder that more and more swimming pools are being built at homes throughout Minnesota. Owning an outdoor backyard swimming pool is like a having a vacation destination right at your home.
Expanding the Dream – As the desire for a swimming pool grows, most Minnesota homeowners begin thinking about what kind of pool they want, and begin visualizing it on their property. Memories of pools and other pool features seen on travels and vacations come to life in your imagination. You begin looking more closely at the pools of neighbors and friends. You see swimming pools everywhere, in magazines, advertising, and on your television screen. Your dream pool and its surroundings begin to gel as a clearer and clearer vision.
Making the Decision – Finally, you decide to make your vision come to life. You have the means to build your custom swimming pool, and there's no reason not to get started on the process of making it happen. But, can you get exactly what you've been thinking of? Is your dream pool just a dream, or can you have just what you want? It's time to ask the experts.
Getting the Help You Need – With your ideas for creating a unique in-ground swimming pool and other pool features becoming clearer in your mind, it's time to turn to a swimming pool expert, like one of the consultants at our Minnesota pool company. At your initial meeting, either in our Minneapolis showroom, or at your home, you can share your ideas. You'll quickly discover that your vision of an outdoor pool can be realized. Your pool consultant will show you images of pools, available materials and accessories, and will suggest new options and possibilities you may not have considered.
Solidifying the Concept – With some very basic decisions made, and the suitability of your installation site checked, preliminary sketches will be made. You may want to involve your architect or designer in this part of the process, or rely on our designers to generate computer-based designs for your review. Almost always, you'll change things in this initial design, which will be further refined until the overall design matches your concept. At that point, decisions about materials, equipment, and ever aspect of the in-ground pool will determine the details and you'll get an initial estimate of the total cost of the project.
Decision Making – With a firm commitment on most details of your outdoor pool, a contract can be prepared and a schedule set for construction of your new in-ground pool. We're meticulous in making sure that the cost for your pool is as accurate as possible and doesn't hide any costs that will show up later as an unpleasant surprise. In any project of this size, unexpected issues may arise, of course, and you may make changes that increase the costs, but we work very hard to provide you as accurate a final cost as possible.
Pool Construction – Finally, it's time to build your new in-ground pool and everything surrounding it. Prepare yourself for some major upheaval on your backyard. It's a big project. Our builders and installers always endeavor to minimize this inconvenience, and we keep to the schedule as closely as possible. We'll build your project smoothly, quickly, and as designed. Unnecessary delays and slowdowns are just not part of our process.
Completion of the New Pool – While it may seem like the process is taking forever, before you know it, your backyard pool and its surroundings take shape and the project reaches its conclusion. All the mess disappears, all systems are checked and the new pool is filled. It's time to begin a lifetime of enjoyment of your dream project. Your custom pool design becomes the addition you hoped for and lives up to everything you imagined.
For every homeowner how much a new swimming pool costs is a factor to be considered. That cost will be determined by the choices you make throughout the design process, and our swimming pool consultant will be happy to help you with cost comparisons. In general terms, your custom swimming pool should reflect the materials and quality of your home. Choose options that match your home's architecture and appointments and the cost of your pool will be commensurate with the value of the rest of your property. Since your pool will be a permanent fixture on your property, always remember that choosing high quality features and construction is your best assurance of a lifetime of lasting value.
Minnesota Custom Pool Design & Construction Company
In our 30+ years of building swimming pools and aquatic projects, we've helped thousands of homeowners in the Minneapolis St. Paul area realize their dreams for a unique swimming pool and its surroundings. Our long experience and expertise means that we can create exactly the pool you can imagine for your home. Our professional pool consultants love to help homeowners find ways to design a pool that meets all expectations, and our experienced concrete pool construction staff has the skills, creativity, and equipment needed to turn plans into reality. At every step of the process, we work with you to keep you informed and make the entire process an exciting and satisfying one. Contact us soon to discuss the infinite possibilities for your own pool recreation area.