Custom Spas Builder – Minneapolis St. Paul, MN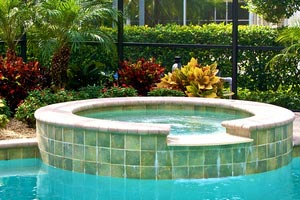 When you're thinking about adding a relaxing, invigorating spa to your Minnesota home or commercial property, think about a custom-built concrete spa as an alternative to portable spas. With a customized spa, you can get the exact environment you want, with the luxurious features only a custom-built concrete spa can offer. Whether you want a standalone spa or a spa to enhance your swimming pool, a concrete spa will meet your every need and live up to your dreams.
How much your custom spa costs depends on its size and the features you include. Whether you create a standalone spa or add a spa to the design of your swimming pool, its value over the decades will not diminish. Unlike the pre-fabricated spas sold by many spa companies, a custom-built spa from our high quality pool and spa company will last for decades of use. As a permanent part of your outdoor or indoor lifestyle, it won't fade, delaminate, or deteriorate. It's a lifetime investment. Advantages of a custom concrete spa include:
Spa Design – A custom-designed and constructed spa can be any shape, any size, and can incorporate luxurious or even unusual materials not possible with other spas, from gem-like imported tiles to rough-hewn boulders. Anything you can imagine can be built for you. From jets and bubblers to dramatic fountains and waterfalls, your dreams are the only limit.
Spa Individuality – A custom spa, built of durable concrete, will be exactly the spa you envision. You'll choose materials, shape, size, and everything you choose will make your spa a unique design, unlike any other.
Durability – When you choose a custom concrete spa, you're selecting a spa that will last a lifetime, retaining its beauty and function for decades.
Value – A custom spa adds far more value to your property. Everyone recognizes the quality and durability of a custom spa.
Customized Concrete Spa Builder in Minnesota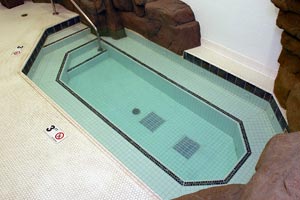 If a unique spa is in your plans, you needn't settle for anything but the very best. Our Twin Cities pool and spa company can design and build a beautiful, durable, luxurious spa for virtually any environment. Spas are some of our favorite projects, and we put all of our talents and expertise to work to create a spa environment you'll enjoy for decades to come.
Residential Spas – You're proud of your home, and have made it uniquely yours. Adding a customized in-ground spa to your home can add your unique touch to this important and pleasurable part of your life. Choose materials to match your artistic vision and create a spa that is unlike any other. Your imagination is the only limit.
Standalone Spas – If you just want a spa, a standalone concrete spa can provide all the benefits of a relaxing and beautiful water recreation feature without the space requirements and cost of a full-scale swimming pool. Our Minnesota spa builder can design and build walk-in or elevated spas to suit any architecture and environment.
Poolside Spas – Whether you have an existing swimming pool or are creating a new one, add a dramatic spa to your pool for enhanced enjoyment. In your beautiful backyard, a spa built in conjunction with a pool is a smart and rewarding choice.
Indoor Spas – Our spa builder specializes in the design and construction of indoor spas for residential properties. Let us show you how an indoor spa can be a valuable enhancement to your indoor environment.
Outdoor Spas – Naturally, outdoor spas are very popular, and can provide year-round outdoor aquatic enjoyment. We can help you create a luxurious spa environment that will fit into your landscaping and outdoor architecture. Relaxing in a beautiful spa can be just a step away from your door.
Therapy Spas – For fitness centers, senior living centers, and clubhouses, a spa designed to ease aching muscles and even for dedicated physical therapy purposes is a highly desirable amenity. Let Atlantis Pool & Spa show you what's possible.
Minnesota Custom Spa Design & Construction Company – Minneapolis St. Paul
When you want the best, most creative, luxurious, and beautiful custom spa in the Minneapolis St. Paul area, you need a custom spa builder that's the leader in this type of construction. In the Twin Cities, that's Atlantis Pool & Spa. Custom spas are a specialty at Atlantis, and we've built some of the best in the area in our 30+ years in the pool and spa business. Contact us to discuss your ideas, and one of our expert spa consultants will work with you to create a spa you'll be proud of for decades. Let us show you how we can create the luxury and beauty you want and deserve for a price that can't be beaten.